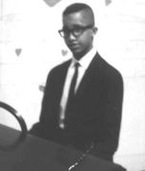 "The most important quality of a good arranger is insight", says Lee Allen. Insight, in this case, has been gained from a varied playing history that started when Lee began playing Memphis nightclubs during the late 60's, at the age of 14 (don't tell!).
The band in which Lee played became one of the most popular club, touring and show bands in late-60's and early 70's Memphis. Their work included backing
Ollie and the Nightengales
, touring with soul- and beach-music legend
Major Lance
. and once opening for blues legend
Bobby Womack
.
---

"Memphis will always have a special place in American music history because it was the musical home of Elvis, BB King, Otis Redding, Isaac Hayes, the Staple Singers, Al Green and dozens of other artists -- and all at the same time! It was very exciting to be a small part of this historic explosion and celebration of talent."
---

Later, while a student at MIT, Lee helped another musician introduce a gospel choir to the MIT campus, and held the pianist position in the
MIT Festival Jazz Ensemble
, the school's A-list jazz band under the direction of
Herb Pomeroy
of the Berklee School of Music, from freshman year until graduating from MIT (and also served as student-government President!).
---

During the '80's, Lee Allen was an arranger and accompanist for various performers including pop singer Suzanne Lee, contemporary Christian singer Ruth Adams, and the Gene Roberts Trio (left). During this time Lee Allen also began his current solo music business.

---

During the '90's, Lee organized church music programs in Cambridge, Massachusetts and Silicon Valley, California, in addition to performing occasionally as a soloist and "virtual jazz trio".

Lee Allen began his current offering as a "solo pianist with the sound of a jazz trio" during 2005 with recurring engagements at Silicon Valley restaurants and performances in upscale private homes and country clubs.
---
Lee Allen has successfully used his technique at restaurants, receptions, corporate parties and private parties -- for example,
- MacArthur Park Restaurant in Palo Alto, California, for two years
- Faz Mediterranean Restaurant in Sunnyvale, California, for five years
- Ray's Ristorante in Lenox Square, Atlanta, for 18 months
- Murray Circle Restaurant, at Cavallo Point in Fort Baker, Sausalito, California, for two years

In California alone, Lee Allen has performed at prestigious locations including:
* AP Stump's, San Jose
* Apple HQ (Piano Bar), Cupertino
* Best Western Millbrae
* Bistro Gambrinus, San Francisco
* Byington Winery, Los Gatos
* Calafia Restaurant, Palo Alto
* Canyon View, San Ramon
* Cavallo Point, Fort Mason, San Francisco/Sausalito
* Castagnolas, Fishermen's Wharf, San Francisco
* Clement Intercontinental, Monterey
* Clos LaChance Winery, San Martin
* Coca Cola Artist Series - Gilroy
* Cypress Hotel, Cupertino
* De Anza Hotel, San Jose
* Dolce Hayes Mansion, San Jose
* Doubletree San Jose
* Elks Palo Alto
* Embassy Suites, Burlingame
* Fairmont Hotel, San Francisco
* Fairmont Hotel, San Jose
* Faz Mediterranean Restaurant, Sunnyvale
* Forum at Rancho San Antonio
* Four Seasons, San Francisco
* Gilroy Premium Outlets
* Japanese Cultural Exchange Center - Hakone Gardens, Saratoga
* Hilton Concord
* Hilton Oakland Airport
* Hilton San Francisco
* Hilton San Jose
* Hilton Santa Cruz
* HS Lordship's, Berkeley
* Hyatt Burlingame
* Hyatt Sacramento
* Hyatt Saint Claire, San Jose
* Italian Athletic Club, San Francisco
* La Rinconada Country Club, Los Gatos
* Lake Merced Golf Club, Daly City


* Lake Merritt Hotel, Oakland
* Los Altos Country Club
* Mark Hopkins Hotel, San Francisco
* MacArthur Park Restaurant, Palo Alto
* Morocco's Restaurant, San Jose
* Moscone Center, San Francisco
* Mountain Winery, Saratoga
* Old Sugar Mill, Sacramento
* Palace Hotel, San Francisco
* Palo Alto Hills Golf & Country Club
* Palo Alto Women's' Club
* Palmdale Estates, Fremont
* Ritz Carlton San Francisco
* Round Hill Country Club, Alamo (Walnut Creek)
* San Francisco City Hall
* San Francisco Yacht Club
* San Jose Women's Club
* San Mateo CA Public Library
* Saratoga Country Club
* Saratoga Foothill Club
* Silicon Valley Capital Club, San Jose
* Silver Creek Valley Country Club, San Jose
* Silverado Senior Living, Belmont
* Sir Francis Drake Hotel, San Francisco
* Sonoma Chicken Coop, Campbell
* Stanford University
* Super Steer Steak House, Dos Palos
* Tarragon Restaurant, Sunnyvale
* The Old Sugar Mill, Sacramento
* Tommy Bahamas Restaurant, Palm Desert
* Toll House Hotel, Los Gatos
* Vedas Restaurant, Milpitas
* Versailles Senior Living, San Mateo
* Vi Palo Alto
* W Hotel, San Francisco
* West Bay Conference Center, San Francisco
* Westin Palo Alto